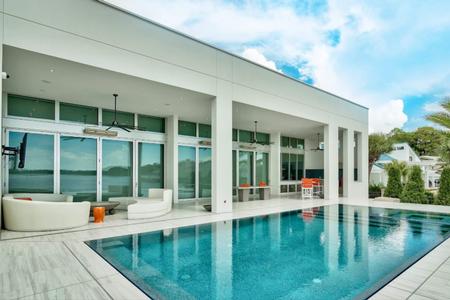 JRA does not have a history of designing single family homes; however, when the opportunity presented itself to design the Sinicrope Residence, JRA jumped at the chance. Most families don't need an Architect because they want traditional design or whatever is vogue at the time.

Dr. Sinicrope and his wife, Jerry, were quite different. They wanted a contemporary home designed specifically for them. At this phase in their life with grown children, the design needed to incorporate entertaining space and a gourmet kitchen. The design also needed to make the most of the views provided by the waterfront property.
The 3500 SF house is all open entertainment, except for a large master bedroom suite and a study. The living room opens onto a 1500 SF outdoor living/kitchen area and an infinity pool. The entire back wall takes full advantage of the water view through a 50' operable glass wall.
The construction is stucco on 12" wide insulated concrete forms designed to withstand more than 150 mph winds.
The house was completed in the summer of 2018 and withstood the record setting winds of Hurricane Michael.